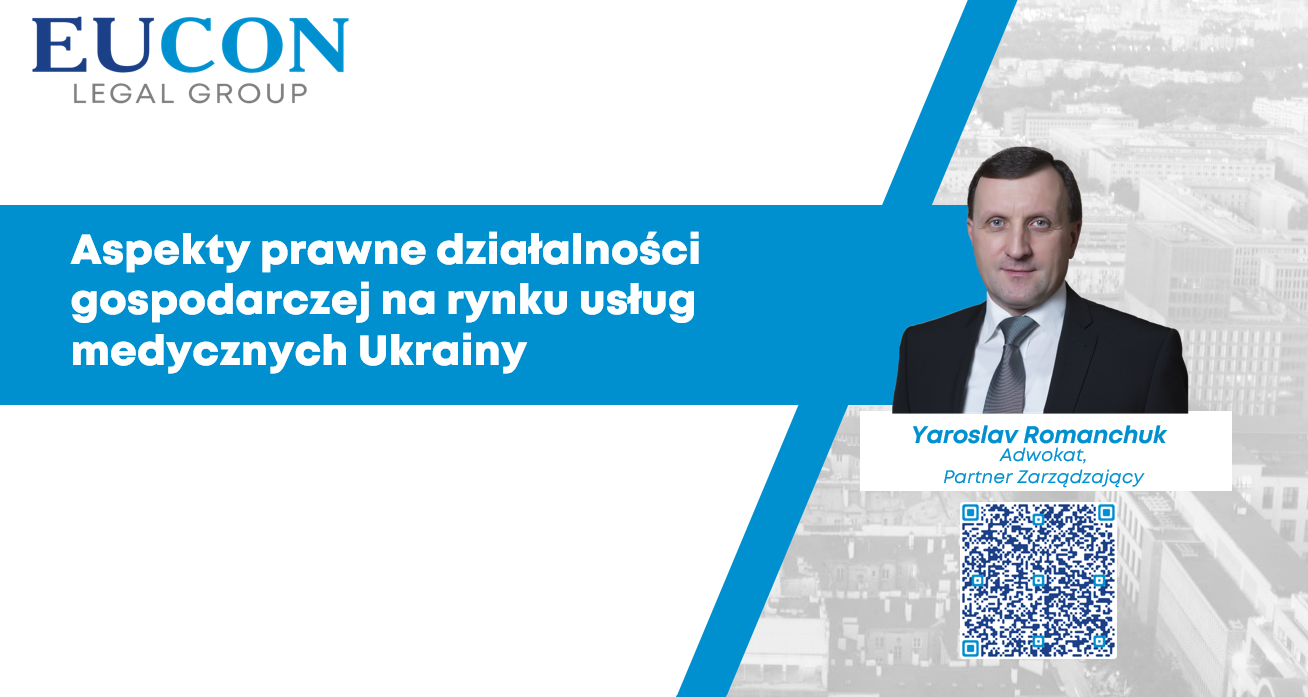 On March 15, a parallel online and offline webinar for the medical and pharmaceutical industry from the Polish Investment and Trade Agency (PAIH) was held in Warsaw, during which attorney, EUCON managing partner Yaroslav Romanchuk became a speaker.
The event took place within the framework of a series of industry consultations from PAIH, which are organized in cooperation with Polish businesses in preparation for the resumption of exports and the post-war reconstruction of Ukraine.
Speaking on the topic "Legal aspects of entrepreneurial activity in the market of medical services of Ukraine", Yaroslav Romanchuk focused on the aspects of the list and features of submitting the necessary documentation for obtaining a medical license and for obtaining a pharmacy license, analyzing the possible nuances and difficulties that can complicate the preparation process.
Separately, the expert analyzed in detail the main taxes in Ukraine and their rates, namely: corporate income tax, value-added tax (VAT), basic rate, preferential rate (in particular, delivery and import of medicines and medical devices), income tax individuals, single social contribution and military tax. Within this topic, the speaker also paid special attention to the simplified taxation system and its features, considering each of the categories.
Important in the context of the topic is the international aspect, namely Ukraine's implementation of the BEPS plan, the MLI convention, FATCA provisions and the introduction of the CRS system for the automatic exchange of financial and tax information, so Yaroslav Romanchuk told the participants in detail the specifics of the mentioned processes.
Speakers of the event were also: representatives of the Embassy of the Republic of Poland in Kyiv and the Ministry of Development and Technologies of Poland; Tetyana Chuzha – BDM of the Foreign Trade Bureau in Kyiv of the Polish Investment and Trade Agency (moderator); Davyd Tomaszewski – First Secretary of the Economic Department of the Embassy of the Republic of Poland in Kyiv (moderator); Mykhailo Radutskyi – Chairman of the Committee of the Verkhovna Rada of Ukraine on National Health, Medical Assistance and Medical Insurance; Oleh Havronyuk – acting director Head of the Department of International Cooperation and European Integration of the Ministry of Health of Ukraine; Dmytro Aleshko – managing partner of ABSC Ltd.; Yevhenia Piddubna – head of the Committee on Health Protection of the Union of Ukrainian Entrepreneurs; Serhii Tsivkach – director of UkraineInvest; Felix Koberski – expert in Trade Financing Sales, Department of Foreign Expansion and Trade Financing, Bank of the National Economy; Hubert Czuprynski – Office of Foreign Expansion, Bank of the National Economy; Oleh Syarkevych – member of the Board of Pharmak Ukraine; Dr. Krzysztof Sedlecki – independent industry expert; Pavel Dombrowski – Unilab, Alab Laboratoria.