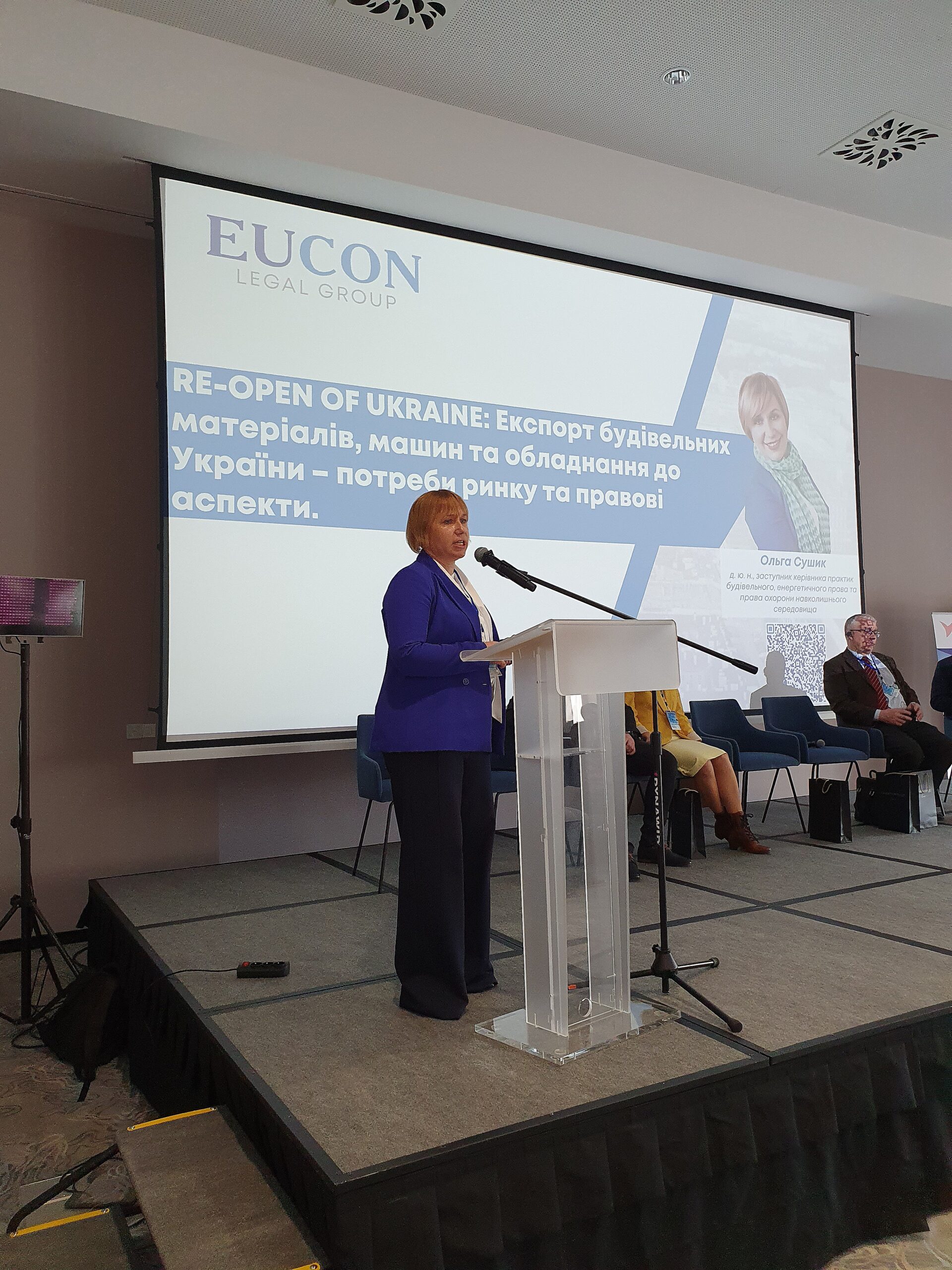 Doctor of Law, senior lawyer, and deputy head of EUCON Legal Group's construction, energy law and environmental law practices, Olha Sushyk became a speaker at the forum "New Trends in Real Estate and Investments 2023", which took place on February 21 in Warsaw.
Event organizers – Best Business Network – Ukrainian-European Business Hub for business, which promotes and ensures effective partnership, cooperation, project implementation and collaboration between entrepreneurs.
During the forum, developers, investors, representatives of Polish and Ukrainian business, in particular construction, partner organizations and associations, manufacturers of building materials, real estate specialists, etc., discussed the real estate market in the world in 2023, international investments, creating prerequisites for concluding contracts and Ukrainian-Polish partnership, informational support and exchange of experience among industry leaders, development of a practical action plan and development prospects.
During the panel "Construction and Development 2023 Poland & Ukraine", Olha Sushyk spoke on the topic "RE-OPEN OF UKRAINE: export of construction materials, machines and equipment to Ukraine – market needs and legal aspects". Ms. Olha named the list of exported construction materials, and also considered the important issue of scarce categories of construction products, which is related to the damage or destruction of enterprises due to the war, the occupation of the territories where production is located, the lack of raw materials, logistical problems and human capital.
The expert analyzed the changes in prices for construction materials, trends in the development of legislation in the construction industry, noting that the process of harmonizing Ukrainian standards with EU legislation is currently ongoing, and the process of technical regulation of construction products is being simplified and digitized. In the context of the topic of legislation, Olha Sushyk reviewed and explained in detail the important aspects of the Law "On the Provision of Construction Products on the Market" (Regulation (EU) 305/2011), Cabinet Resolution No. 1458 "Some Issues of the Provision of Construction Products on the Market" and Order of the Ministry of Regions No. 87 of 05/30/2022 "On approval of the list of European documents for determining admissibility".
The panel also spoke: Halyna Heilo – president of the Ukrainian Association of Payment Systems, vice-president of the Association of Ukrainian Banks (moderator); Mustafa Nayem – head of the State Agency for Reconstruction and Development of Infrastructure of Ukraine; Pawel Pniewski – Director of International Relations of the Association of Polish Banks; Victoria Tigipko – founder and managing partner of the VENTURES venture capital fund; Andrzej Drozd – vice-president of the Polish-Ukrainian Chamber of Commerce; Anna Vinnychenko – representative of the Chamber of Commerce and Industry of Ukraine in Poland; Sean Doyle – Head of Capital Markets, CBRE; Craig Smith – publisher of europaproperty.com; Vlad Winner – president of HITU Production Turkey, CEO of Binom Norway; Yuliya Shevtsova – attorney at Morawski & Partners Law Firm; Ruslan Kuzmin – founder and CEO of Renova Construction; Vyacheslav Kredisov – Doctor of Economic Sciences.