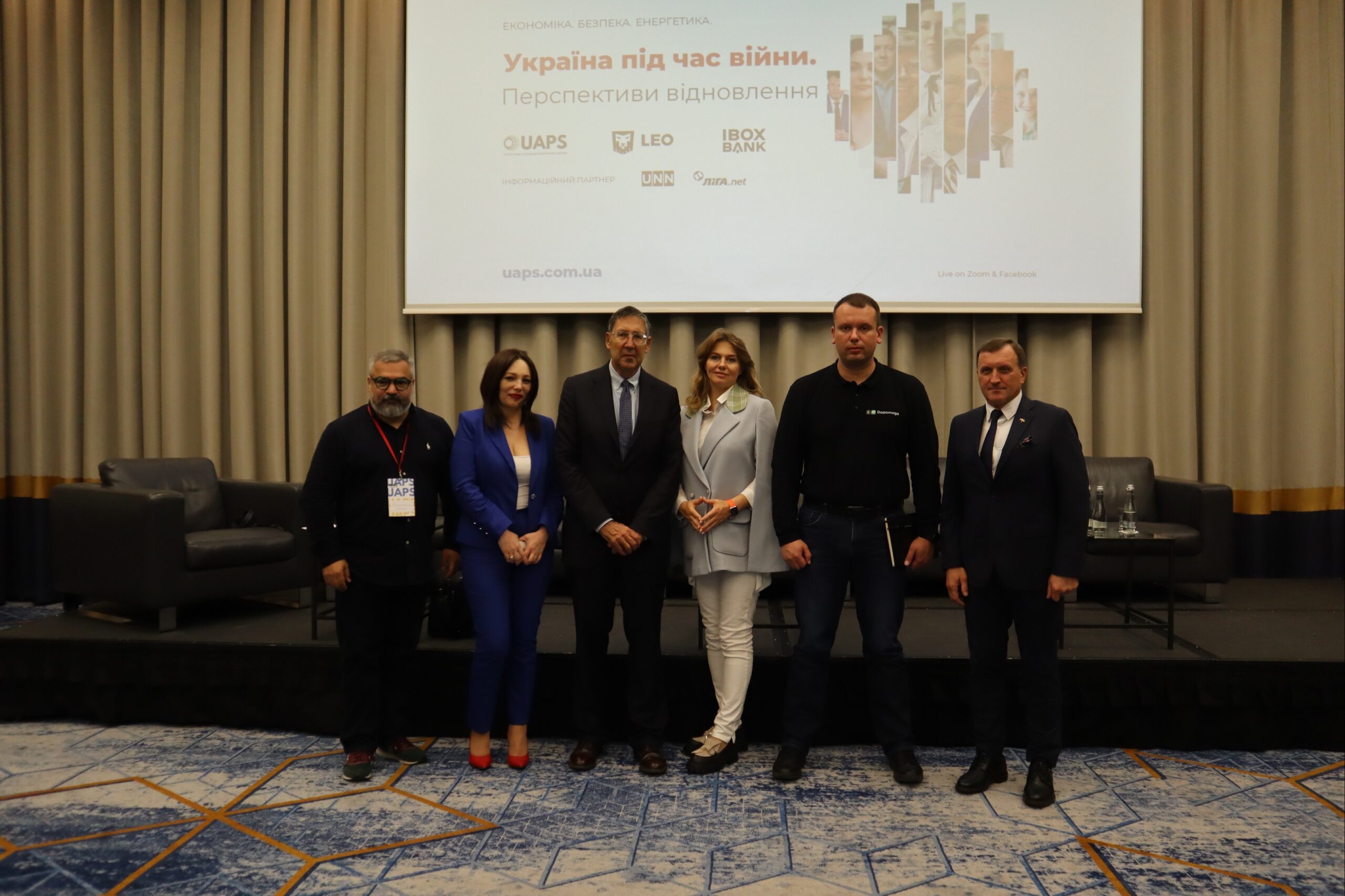 On October 6, the international conference «Ukraine during the war. Economy. Security. Energy. Recovery prospects» was held in Warsaw, during which Yaroslav Romanchuk, attorney-at-law, managing partner of EUCON, Chairman of the Board of the Association of Ukrainian Business in Poland, spoke. The organizers of the event were the Ukrainian Association of Payment Systems (UAPS), the Atlantic Council organization, and the Ukrainian transaction bank IBOX BANK.
Government officials, politicians, experts in economics, finance, banking, and energy, and business representing three thematic blocks – «Economy and security», «Energy» and «Prospects for the recovery of Ukraine» discussed the current economic situation in Ukraine and the global context, international instruments support, ways to stabilize the banking system during martial law, problems and methods of solving them in the field of energy, as well as prospects for the reconstruction of Ukraine in the post-war period.
Yaroslav Romanchuk spoke within the framework of the first block «Economy and security» with the topic «Impact of the relocation of Ukrainian business to EU countries on the economic security of Ukraine». During the speech, Mr. Yaroslav outlined the specifics of the process of business relocation to European countries using the example of relocation to Poland during the war in Ukraine, analyzed several problems faced by entrepreneurs, aspects of the legalization of business activities in EU countries using the Polish example, and also considered payment risks taxes in terms of Ukrainian and Polish tax legislation.
Speakers of the conference were also: John Herbst – the 5th Ambassador Extraordinary and Plenipotentiary of the USA to Ukraine, director of the Eurasian Center named after D. Patrichiu at the Atlantic Council of the USA; Kateryna Rozhkova – first deputy head of the National Bank of Ukraine; Vladyslava Magaletska – adviser to the Deputy Prime Minister of Ukraine, ex-deputy Minister of Agrarian Policy and Food of Ukraine; Oksana Markarova – Ambassador Extraordinary and Plenipotentiary of the USA to Ukraine, ex-Minister of Finance of Ukraine; Oleksandr Bevza – ex-director of the Licensing Department of the National Bank of Ukraine; Kostyantyn Koshelenko – Deputy Minister of Social Policy of Ukraine for Digital Development, Digital Transformations and Digitalization; Alan Riley – an English politician on energy and competition issues, a senior researcher at the Global Energy Center of the Atlantic Council, a legal scholar, a solicitor of the Supreme Court of the United Kingdom; Olha Hakova –  Deputy Director for European Energy Security of the Global Energy Center of the US Atlantic Council; William Taylor – the 6th Extraordinary and Plenipotentiary Ambassador of the USA to Ukraine, vice president of the USA Peace Institute; Tymofiy Mylovanov – President of the Kyiv School of Economics, professor at the University of Pittsburgh, Chairman of the Supervisory Board at the State Concern "Ukroboronprom", adviser to the Head of the President's Office, ex-Minister of Economic Development, Trade and Agriculture of Ukraine, etc.