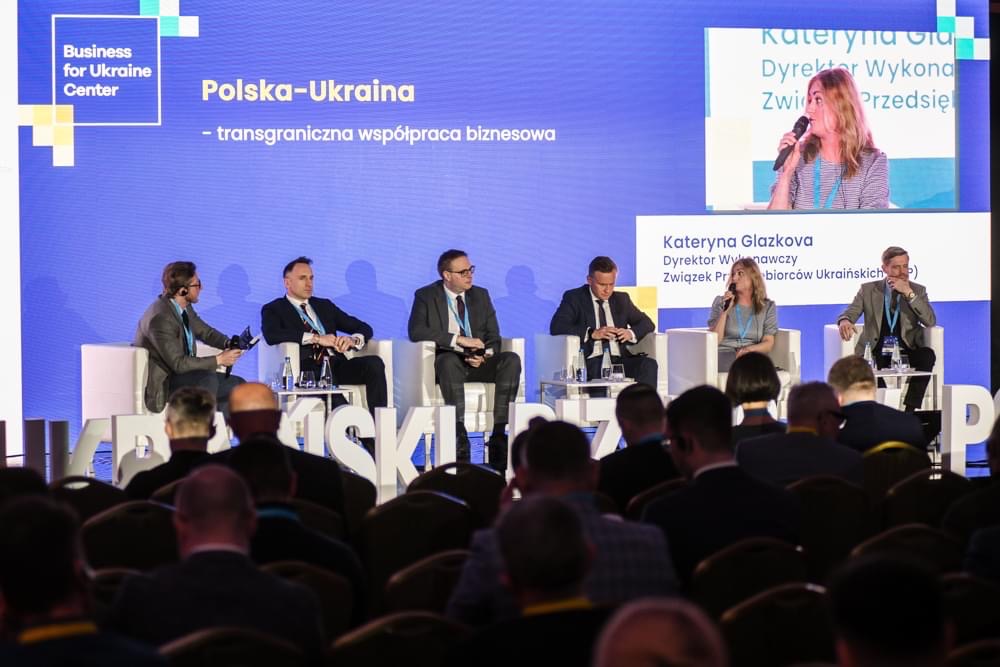 On March 30, the conference «Ukrainian business in Poland: opportunities for cooperation, development prospects, experience and challenges» was held in Warsaw, during which attorney, managing partner of EUCON Yaroslav Romanchuk became a speaker.
The event was organized by the «Business for Ukraine» Center by ZPP, which actively supports the development of Ukrainian entrepreneurs on the European market.
The participants of the forum came together to find answers to urgent questions about how to effectively manage a company in Poland, where to look for potential partners, how to get business contacts on the Ukrainian market, as well as with the aim of building B2B relations between Polish and Ukrainian businesses, as well as providing support to Ukrainian companies in conducting activities on the Polish market.
Yaroslav Romanchuk and his colleagues discussed during the third panel "Cooperation with Polish business. Where to start and where to look for professional support?" successful cases of cooperation and methods of finding and establishing business contacts, advantages of the Polish market and its investment attractiveness, legal and financial preparation of the basis for entering the Polish market, a list of organizations that contribute to the strengthening of Polish-Ukrainian business ties and support Ukrainian entrepreneurs, how to avoid potential risks and "pitfalls" of doing business in Poland, how to attract Polish investors, what "homework" a business should do, etc.
The speakers of the third panel were also: Sebastian Stodolyak – vice-president of the Warsaw Institute of Entrepreneurship; Izabela Wyżga – the president of the Fundacja Totalizatora Sportowego; Maria Łubian – regional manager of PAIH Export Center; Valeria Antoniou – Diia.Business communications coordinator; Anna Liubyma – director of the International Cooperation Department of the Chamber of Commerce and Industry of Ukraine; Marcin Półchłopek – director of commercial management of Allegro; Bogusława Rudecka – the director of the Center "Business for Ukraine" by ZPP.