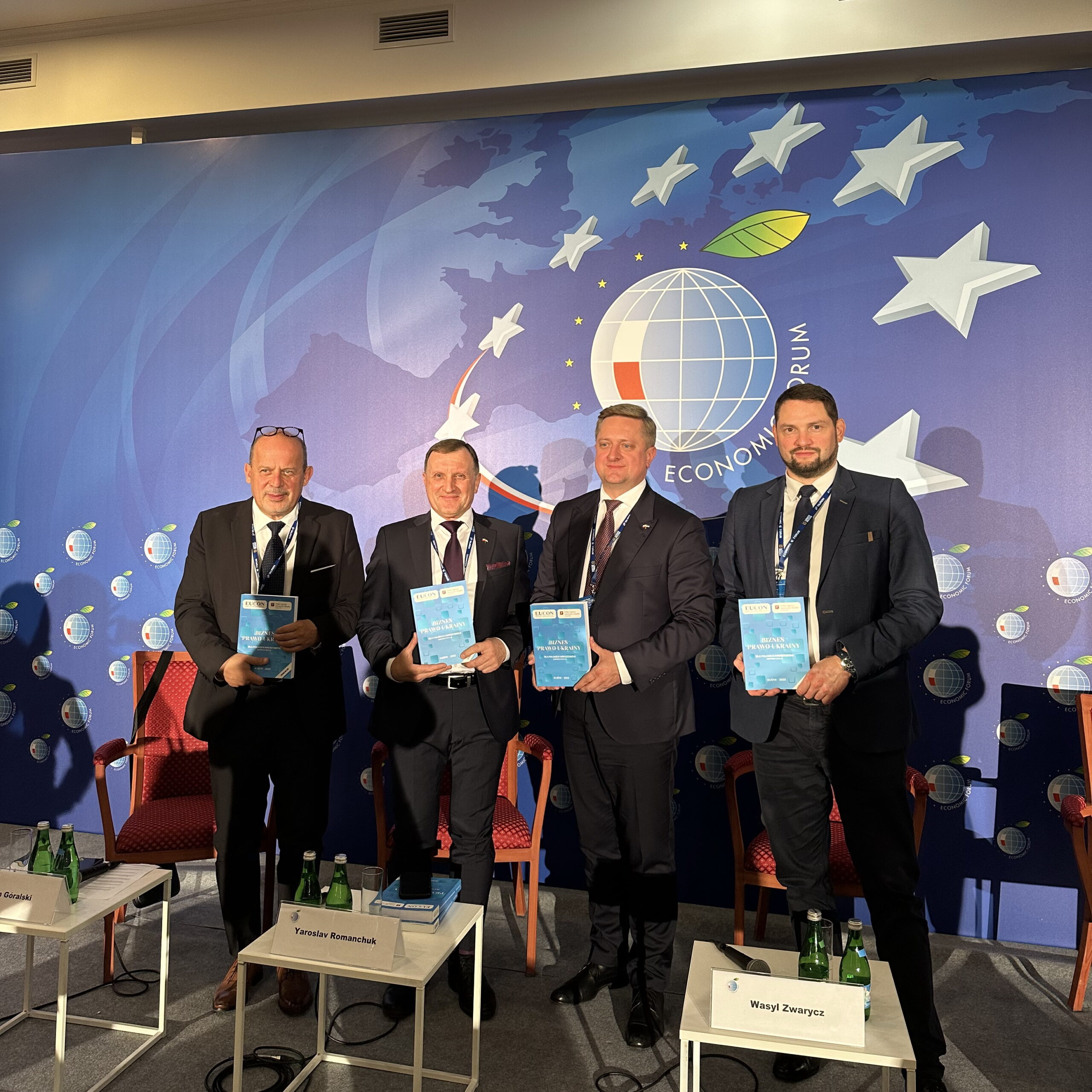 On September 5, 2023, the presentation of the book "Business Law of Ukraine for Polish Investors" took place in Karpacz within the framework of the largest economic forum in Central and Eastern Europe, namely at the 32nd  Economic Forum.
The authors of the book are the team of EUCON Legal Group's Kyiv office, the book is published in Polish.
This publication is of interest not only to legal professionals, but also to Polish investors intending to enter the Ukrainian market.  The book will help them to understand the peculiarities of Ukrainian legislation.
The book consists of 13 chapters and covers the following areas of law: corporate, tax, customs, accounting and tax accounting, intellectual property, labour and migration, land, environmental, energy, urban planning, public procurement and anti-monopoly law, which are spread over 400 pages.
The publication contains an introductory speech by the Minister of Foreign Affairs of Ukraine Dmytro Kuleba and the Chairman of the Board of PAIH S.A. Pawel Kurtasz,.
The book presentation was attended by Vasyl Zvarych, Ambassador of Ukraine to the Republic of Poland; Roman Góralski, Executive Director of Wydawnictwa SITK RP; Yaroslav Romanchuk, Managing Partner of the EUCON Legal Group; and Mikolaj Tauber, representative of PAIH S.A.
During the presentation, the Ambassador of Ukraine to Poland, Vasyl Zvarych, emphasized that Polish businesses planning to enter the Ukrainian market should take the first steps in this direction. The book should help and support him in this process.
In turn, the Managing Partner of the EUCON Legal Group, Yaroslav Romanchuk, added that this book will be a valuable guide for all Polish entrepreneurs interested in starting their own businesses in Ukraine, as well as for those planning to expand their investment activities eastward from Poland.
Mikolaj Tauber, a representative of PAIH S.A., emphasized in his speech that EUCON Legal Group has been a long-standing and reliable partner of PAIH. Therefore, their support in publishing this book is a logical step. Given that today PAIH's database contains more than 3,000 companies interested in participating in Ukraine's reconstruction, this book will be a significant support and help Polish businesses understand the legal regulations, start and run a business in the territory Poland's east neighbor, strategic and economic partner.
The book was published with the support of the Ministry of Foreign Affairs of Ukraine, PAIH S.A., and in the cooperation of the publishing house Stowarzyszenie Inżynierów i Techników RP, Zarząd Krajowy.
Anyone interested can purchase the book by submitting a pre-order via the following link: https://euconlaw.com/pl/wiecej-informacji-o-ksiazce/