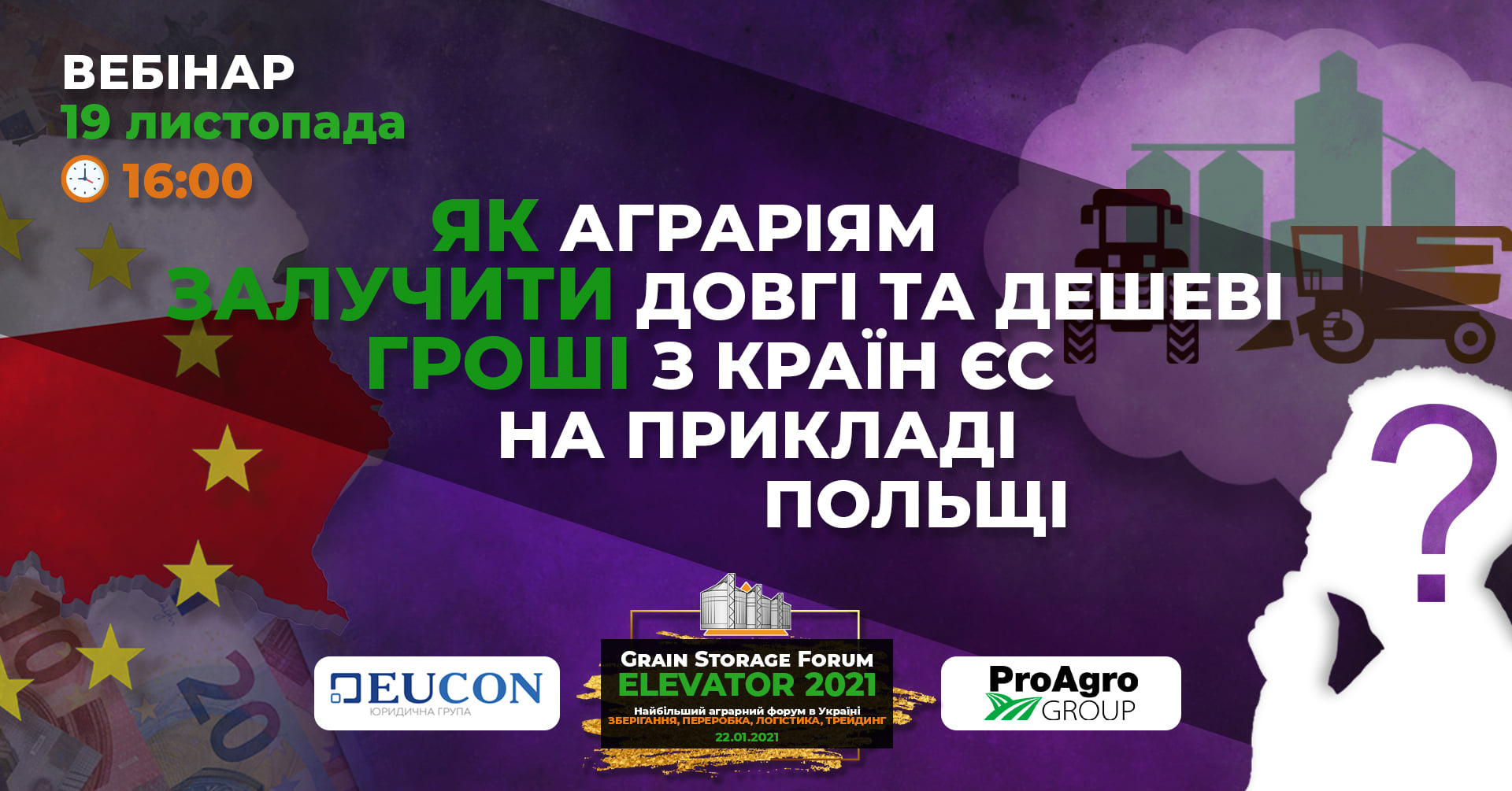 How can farmers attract long and cheap funds from EU countries? The experts (Ukrainian and Polish) answered this question during the joint webinar of EUCON and ProAgro hold within the GroupGrain Storage Forum "Elevator-2021″. The experts' answers grounded on the analyses the work experience with Poland.
Yaroslav Romanchuk, Attorney at Law, EUCON Legal Group Managing Partner, Andrii Romanchuk, Attorney at Law, Head of EUCON office in Poland, Ihor Baranetskyi, Head of Economic Department of the Embassy of Ukraine in Poland and Felix Kobersky, expert of the trade financing department of Bank Gospodarstwa Krajowego told the audience about the types of assistance and support for Ukrainian business in entering the Polish market, about the "homework" that the business owners need to do to access financial resources and other topics that you can learn by watching the video of the webinar.
TIME CODES:
00:01 – Greeting by Oleh Klimenko, Managing Partner of ProAgro Group
07:21 – The word of the moderator and the presentation of the speakers
10:15 – Ihor Baranetskyi: ways to promote and support Ukrainian business to enter the Polish market; economic cooperation between Ukraine and Poland
24:36 – Yaroslav Romanchuk: are the financial resources of the EU and Poland really available, in particular to finance the construction of the elevator?
46:24 – Andrii Romanchuk: catalogue of Republic of Poland financial instruments
01:00:38 – Felix Kobersky: how Ukrainian farmers can become beneficiaries of financing by Polish state bank BGK?
01:30:32 – Answers to the Questions