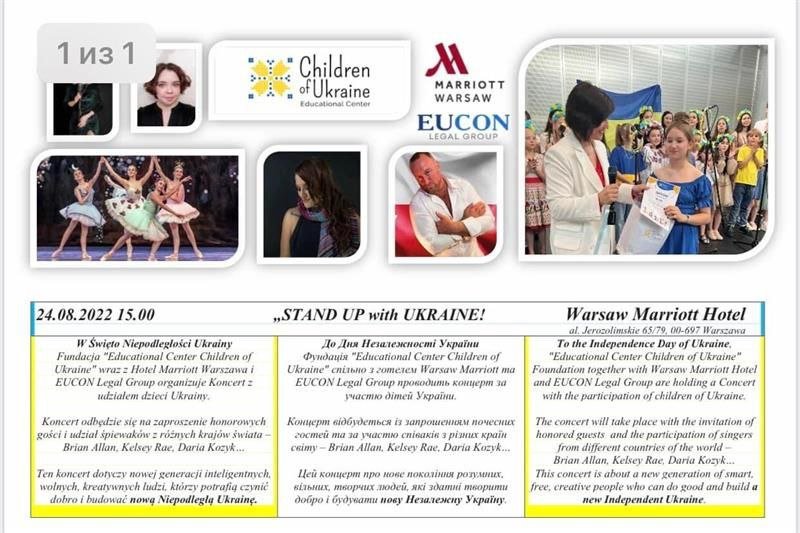 With the legal support of the EUCON Legal Group, an important social project was implemented in Warsaw which has now gained special significance – the Educational Centre for Children of Ukraine.
Upon the initiative of Andrii Romanchuk, partner and head of the Warsaw office, who mentored the ECCU, EUCON became a legal partner and direct participant in the implementation of the project, in the framework of which the company will provide free legal support in the future.
The Educational Center Children of Ukraine was founded by teachers from Kharkiv on the basis of a school for Ukrainian children that they established in Warsaw. The school will be run under a Ukrainian license from the Ministry of Education and Science of Ukraine and the curriculum will be based on Ukrainian school curricula. The school will start operating on 1 September this year.
And on 24th August at 15:00 in Warsaw on the occasion of Ukraine's Independence Day, the foundation "Educational Center Children of Ukraine" will organize a concert "STAND UP WITH UKRAINE!" with children from Ukraine in cooperation with the Marriott Warsaw Hotel and EUCON Legal Group, including a vocal ensemble Singing team of UA, the Children Ballet Theatre (Kharkiv), the "Pastoral" choir (Kyiv), an instrumental quartet and solo performances.
The concert will be featuring distinguished guests and performers from around the world: Brian Allan (Poland), Kelsey Rae (USA), Daria Kozyk, Kateryna Bezugla (Ukraine).
The programme includes gifts for the children, a sweet buffet and refreshments after the concert at 16:15
Ukrainian families are invited to take part in the event.
THE NUMBER OF PLACES IS LIMITED, PLEASE REGISTER FOR THE EVENT BY CLICKING HERE: https://docs.google.com/…/1FAIpQLSezQidIhLC…/viewform…